Batteries can last for a year or more (depending on usage)!

Batteries Can Last a Year or More
Efficiency
The Pick-to-Light devices have been designed to maximize battery efficiency.  PTL devices spend most of the time "sleeping".
With typical use, the two AA batteries could last years. It really depends on how frequently you activate the device.
Self-Monitoring
The battery voltage of each device is continuously monitored by the system.
The device itself always displays the current battery voltage or a low-battery warning. And on the SKU-Keeper server, you can easily get a list of Pick-to-Light devices and their locations that have battery levels below a cut-off value that you specify
Battery changes are quick and easy. Two AA batteries are accessible from the front of the device, without removal. Don't worry, you'll never lose Pick-to-Light device data because the devices re-synchronize with the database upon startup.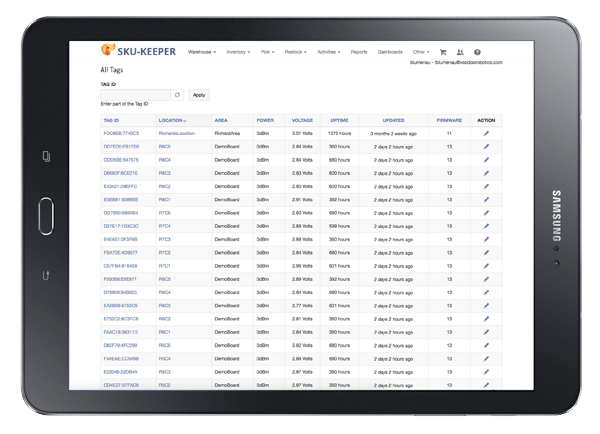 Monitor Uptime and Voltage
The SKU-Keeper inventory management app makes it easy to monitor the uptime and current voltage of all devices. Battery voltage for each device is sampled at least once per day, and the data is readily available on your cell phone or desktop from anywhere in the world! You'll know exactly which batteries need replacing, long before they die.
Let's have a conversation so we can better understand your needs. Call us or schedule a demo so see the next-generation Pick-to-Light solution in action.