Voodoo Robotics Releases New Multi-button Product
CHICAGO, IL – March 20, 2023
Voodoo Robotics today announced the immediate availability of a new multi-button Cloud Display Device. Introduced this morning at ProMat in the SVT Robotics Booth N7148, the new multi-button device has the same functions as the single-button device, but adds two quantity adjustment buttons on top. This often requested feature allows workers to dynamically alter the quantity handled during pick operations.  Trevor Blumenau, CEO of Voodoo Robotics, said, "In many cases, pickers are instructed to pick more items than are available in a slot. Without interrupting their flow of activity, they can pick the quantity available and report the shortfall."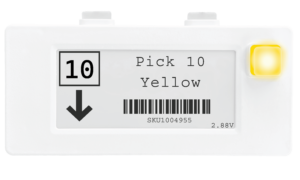 When integrated with a Warehouse Management System (WMS), workers can dynamically modify picking or processing instructions to potentially trigger instructions from the Warehouse Management System (WMS) for slot replenishment, pick substitutions, or overflow inventory picks. This helps to maintain data integrity as well as picking speed and accuracy.
The new feature represents a significant improvement in Voodoo Robotics' Pick-to-light offering. Blumenau said, "Outside of defined picks, if warehouse workers notice that the quantity of a product on the shelf is more or less than that defined in the WMS, they can adjust the inventory up or down and confirm the change. In this way we support inventory management by wandering around."
The Cloud Display Device picking hardware easily integrates with existing WMS or Enterprise Resource Planning (ERP) systems, allowing distribution centers, warehouses, and 3PLs to scale operations for pick-to-light, put-to-light, pack-to-light, kitting, will-call (customer pickup), quarantine, order sortation (put walls) and other scenarios. A simple URL or REST API call causes the device to light up with up to five lines of custom text, including quantity, barcodes, QR codes, and arrows. The button LED also lights up in any of 6 colors. Static text messages enable customers to display information between picks. Each Cloud Display Device uses two AAA batteries that can last for years.
The product will be on display and available for demonstrations in the SVT Robotics booth N7148 at ProMat, March 20-23, and is available for immediate delivery.
About Voodoo Robotics
Voodoo Robotics is a leading innovator in warehouse picking automation, based in Frisco, Texas. We offer a unique wireless Pick-to-Light system designed and made in the United States, that modernizes warehouse operations by leveraging the latest Internet-of-Things (IoT) technology. Our picking hardware integrates easily with existing Warehouse Management Systems (WMS), or Enterprise Resource Planning (ERP) systems allowing distribution centers, warehouses, and third-party logistics (3PLs) to manage operations with little to no integration effort. The website for Voodoo Robotics is voodoorobotics.com.
6170 Research Road, Frisco, Texas 75033
972-914-8758 Main